If you get the error 0x0000011b on Windows 7 and later clients after updating your print server, here is a registry key that might help you: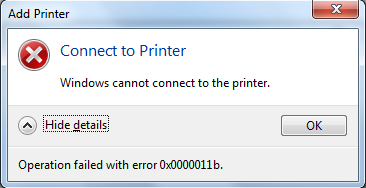 HKEY_LOCAL_MACHINE\System\CurrentControlSet\Control\Print
DWORD RpcAuthnLevelPrivacyEnabled 0
The key needs to be set on your print server. Remember that by setting this key, you will effectively re-open the print nightmare security flaw by downgrading your security level on the server. If you want a persistent fix, you should use type 4 printer drivers, which do not need admin rights on the client side. Admin rights are needed if you have type 3 printer drivers.
References:
https://docs.microsoft.com/en-us/answers/questions/563223/windows-cannot-connect-to-the-printer-error-0x0000.html